Hemerobius sp.
Edit
Arthropods (Arthropoda)----Insects (Insecta)----Net-winged flies (Neuroptera)---Brown lacewings (Hemerobiidae)----Hemerobius-----Hemerobius sp.
This is the commonest genera of North America, but adult Brown lacewings are still not very common. Larger eyes seperate this genus from Micromus.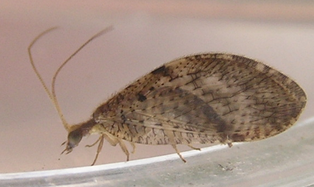 Can be found around woodland edges; fences, low shrubs and hedegrows, and on branches of trees
Adult body 8-11mm including wings.