Leaf beetles
Edit
Arthropods (Arthropoda)----Insects (
Insecta
)----Beetles (
Coleoptera
)-----Polyphaga-----Chrysomeloidea-----Leaf beetles (Chrysomelidae)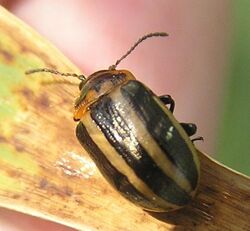 This page also includes Orsodacnidae
Edit
Leaf beetles are are group of mainly herbivorous beetles, a few species look remarkably like, and are often mistaken for, ladybirds. The key here is the more elongated shape of these insects, and their much longer antennae. Almost all of the garden pest species, such as the Lily beetle, Colorado and Asparagus beetle, are in this family and cause devastating damage to crops and plants. However, some are of economic importance, such as a biological control for rapidly spawning weed species.
Larvae of leaf beetles normally feed on leaves above ground, but some are subterranean and feed on plant roots underground.
This group consists of Basic leaf beetles, Tortoise beetles (Cassidinae), Flea beetles(Galerucinae), Skeletonizing leaf beetles (also Galerucinae) and the longhorn-like Case bearers (Cryptocephalinae). Flea beetles are not featured on this page, go to the bottom and click on Alticini from the table.
California Calligrapha---Calligrapha californica