Arthropods (Arthropda)----Insects (Insecta)---Net-winged Flies (Neuroptera)---Green Lacewings (Chrysopidae)----Chrysopa----Chrysopa Chi
Chrysopa chi, along with Chrysopa oculata are the commonest species encountered in Alberta. This species is easily identified from oculata by black veins on wings and green head and black instead of brown marks. Otherwise chi has an X shaped mark between the antennae bases which seperates it from al other species and wing ventation helps differentiate from Chrysoperla sp. .
Times of Year
Edit
C. chi is the earliest species to appear in the spring. Appearing in April and normally around to mid-June.
Adults and Larvae feed on soft-bodied Arthropods such as Aphids and are considered a beneficial insect in the garden.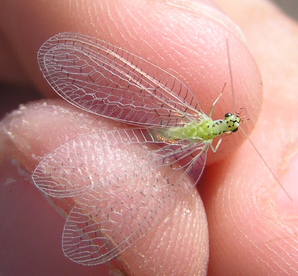 Finding Chrysopa chi
Edit
A way of finding these during the day is to go around all low leafy shrubs in Shady areas and shake them for 2 seconds, sometimes a moth or lacewing will be disturbed and fly out, they will eventually re-land but it helps to have a net to try to capture it so that the insect does not fly over the fence or anywhere out of bounds. See the Bush shaking technique for more. This species is far more often encountered while shaking bushes during the day, C. oculata is rare when doing this (in the area were I tested) and C. chi is less common at lights than oculata .